This blog reported over a week ago that both Obama and
Geithner
were lying, stated they KNEW ABOUT THE
AIG
BONUS MONEY being paid out despite news reports to the contrary...well today
Geithner
admitted that he knew, and that he was the one who got Senator
Dodd
to make the changes in the Stimulus Bill. In short, Treasury Secretary has VIOLATED HIS OATH OF OFFICE, has shamed himself, his family and our nation. Here the real RUB...OBAMA is just as GUILTY! Tenure your resignations Mr. Obama and Mr.
Geithner
....you have shown yourselves to be morally bankrupt, show us as a nation that your promise of Change was a Propaganda Campaign meant to get you elected. More importantly, WHERE IS THE PRESS, WHERE IS CNN IN CALLING THE PRESIDENT ON HIS OWN LIES? What is it CNN...are you a NEWS CHANNEL,or a PROPAGANDA MACHINE FOR
America's
FIRST BLACK PRESIDENT.
Geithner defends bonus action
Treasury Secretary explains his role in stimulus bill talks. At issue: Loophole that allowed $165 million in bonuses to go to AIG executives.
Tracking the bailout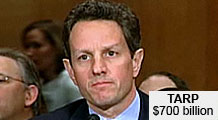 NEW YORK (CNNMoney.com) -- Treasury Secretary Tim Geithner told CNN Thursday that his department, concerned that language about bonuses would not hold up to a court challenge, asked Sen. Chris Dodd to include an executive pay provision in the stimulus bill. The loophole allowed bailed-out insurance giant American International Group to pay out $165 million in bonuses.
In an interview with CNN's Ali Velshi, Geithner said the Treasury Department was concerned the government would face lawsuits if contracts were breached for the bonuses.