Just because Biden road the train for all those years does not make Amtrak a "National Treasure", nor does it entitle Amtrak to Corporate Welfare in the amount of $1.3 Billion dollars from the Obamupus Stimulus Package. If Obama wants to Stimulate the economy while building a world glass rail system, LETS START ALL OVER and let Amtrak go the way of the dinosaur.
WASHINGTON (CNN) -- Vice President Joe Biden continued the administration's rollout of the recently passed economic stimulus package Friday, highlighting $1.3 billion in federal funding for Amtrak.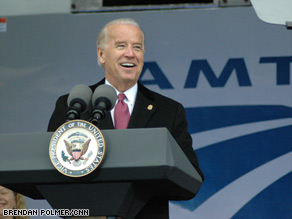 Vice President Joe Biden called Amtrak "an absolute national treasure and necessity."
The money for the rail service, which carried almost 29 million passengers in the previous fiscal year, will go primarily to infrastructure repair and improvement.
The $787 billion stimulus plan includes a total of $8 billion for improvements in rail service, a crucial investment to help ease traffic in the congested northeast corridor running from Boston, Massachusetts to Washington, Biden argued.
It is "a necessity for a great nation to have a great [rail] passenger system," Biden said. "I'm tired of apologizing for help for Amtrak. ... It's an absolute national treasure and necessity."
The $1.3 billion will roughly double the size of Amtrak's capital investment program over the next two years, according to the vice president's office.
The largest single project funded by the stimulus money is the $105 million replacement of a movable bridge over Connecticut's Niantic River. The replacement of the 102-year-old drawbridge has been delayed for more than 20 years because of a lack of capital, Biden noted.
Leading Republican critics of Amtrak argue that the money is a poor use of taxpayer dollars and that the often-struggling rail service should instead be stripped of public money in an effort to force changes that would make it more profitable.