Seems that NSA and DHS are having a turf war over cybersecurity...let me end it. Why should we let Secretary Napolitano and the Department of Homeland Security handle cyber security when they cannot even properly find and deport Illegal Aliens? Maybe she should have her staff spend some more time remembering that their job is...can anyone say "WORK PLACE ENFORCEMENT RAIDS BIATCH!"
March 11, 2009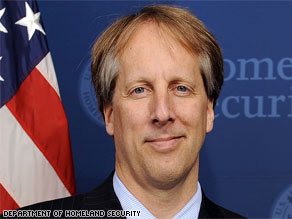 Rod Beckstrom, head of the NCSC, resigned last week.
There's a bureaucratic wrestling match going on over which piece of the federal government will get to handle cybersecurity.
Here's the gist, gleaned from Wired and Forbes' coverage: On one side of the ring, there's the National Security Administration, which is known for its extreme secrecy and its program to wiretap phone conversations of Americans.
On the other, there's the Department of Homeland Security, which now manages computer security. The head of the department's computer security branch resigned last week, complaining that the NSA is trying to steal control of the program.
In his resignation letter to the Department of Homeland Security and in an interview with Forbes on Monday, Rod Beckstrom said consolidating the cybersecurity program under the NSA would put too much power in one agency's hands. Privacy groups are concerned about the NSA taking over the program because of how it handled secret wiretaps of phone conversations.