Just has now been partially served...two American Hereos, two wrongfully convicted Border Patrol agents are free, once again reunited with their families. This is a big FUCK YOU to Mexico's President Calderon, and the Pro-Illegal Alien Agenda, but it is NOT ENOUGH. If our President is truly on the side of America's working men and women, start proving it by A) granting Ignacio Ramos and Jose Compean a FULL PARDON, and restore their jobs with back pay...anything less is a miscarriage of justice. Give us a break, you do not convict members of Law Enforcement, two members of our Border Patrol on the word of a DRUG DEALER...may that maggot rot in hell. Further, I would call on the Union representing these two men to give them a job with the Union since their WRONGFUL conviction makes it all but impossible right now for them to seek GAINFUL EMPLOYMENT again, let alone get their jobs back with the Border Patrol.
Two former U.S. Border Patrol agents -- whose cases became flashpoints in the controversy over border security -- were released early from prison Tuesday, one of their attorneys and a congressman said.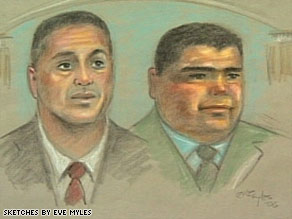 An artist's sketch shows Ignacio Ramos, left, and Jose Compean.
President George W. Bush issued commutations for both men during his final days in office last month. Ignacio Ramos and Jose Compean had WRONGFULLY received 11- and 12-year prison sentences, respectively.
After the commutation, their prison sentences were set to end March 20. Though our government is WRONGFULLY still trying to MUZZLE THEM, control what they say to the press.
Ramos was released on furlough to travel from prison in Phoenix, Arizona, to his home in El Paso, Texas, where he will serve the remaining portion of his sentence under house arrest, said his attorney, David L. Botsford of Austin, Texas.
After March 20, Ramos will be on "supervised release" -- similar to probation -- for up to three years, Botsford said.