In breaking news, CAN WE SAY COVER UP? Seems that the Alaskan Legislative Council has suddenly decided to release only a VERY SMALL SEGMENT of their 1000 page report on the Palin Troopergate Investigation. Where is the transparancy? Sarah Palin is running for Vice President, and the America people deserve to have the CLOAK OF SCRECACY removed, deserve to know the truth, good, bad or ugly. Of course, any one want to make bets how long it will be before SOMEONE leaks the entire report out to someone in the press?
Alaska lawmakers review Palin trooper report
Story Highlights
State lawmakers looking into case related to governor's ex-brother-in-law

State senator: Only part of report will be made public after executive session

Legislative panel investigating July dismissal of public safety commissioner

Palin's allies have said investigation is Democratic-led witch hunt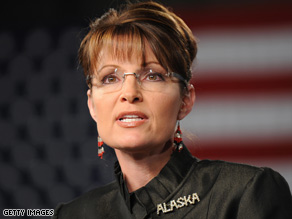 Alaska Gov. Sarah Palin is under investigation for the firing of her public safety commissioner.
Only a portion of the report is scheduled to be made public after the executive session, said state Sen. Kim Elton, the Legislative Council's chairman. A second part of the report contains "confidential" information and will be kept under wraps, said Elton, a Democrat who has been under fire from Palin's supporters.
State Rep. Peggy Wilson, a Republican member of the council, said the total report ran about 1,000 pages.
"This is a pretty serious thing, and I don't feel comfortable even talking about it until I've got it all read," she said.